To Be Human is to Be Creative
"There's no such thing as creative people and non-creative people. There are only people who use their creativity and people who don't. Unused creativity doesn't just disappear. It lives within us until it's expressed, neglected to death, or suffocated by resentment and fear." -- Dr. Brené Brown, The Gifts of Imperfection
Learn by Doing
Practicing art is intimidating if you believe that creativity is reserved for those born with innate talent. I should know - I believed it for many years.
I admired and envied artists, wishing desperately to know the satisfaction of making beautiful things. But each time I tried my own hand, I saw my unpolished work as proof that I could never be artistic.
Only after interacting with over 100 artists did I begin to suspect that art might just be a skill that anyone can learn.
Start With Your Signature
About the Program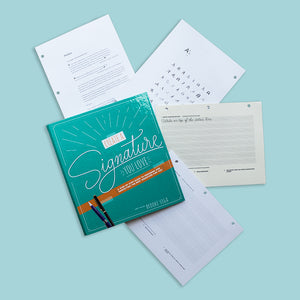 Everything You Need in One Tidy Package
Step-by-step guidebook, sample alphabets and signatures, premium tracing paper, custom-ruled workbook pages, and a hardcover binder that allows you to remove and replace pages.
Learn More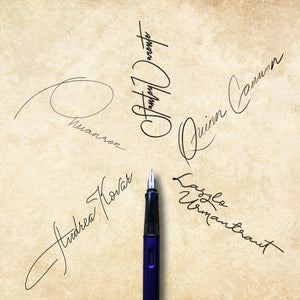 Packed with Samples and Inspiration
Pages of knockout signature samples, 52 inspirational alphabets for creating standout capitals, and a lowercase alphabet tailor-made to help you master your minuscules.
Learn More